DANCING INTO OUR HEARTS
Foreign exchange student performs with dance team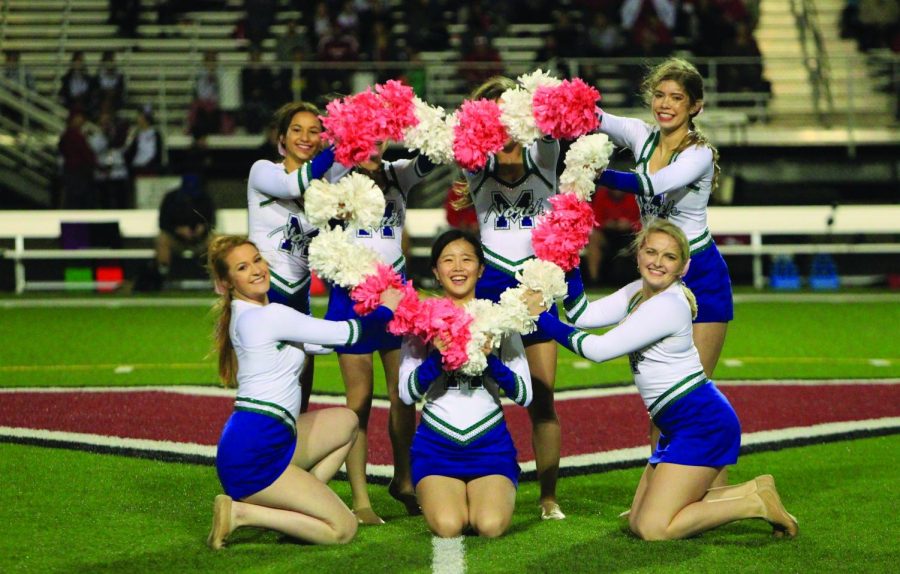 Jennifer Thompson, Opinions Editor
December 4, 2017
Music roars through the stadium and the beat from the loud speakers thumps in the chests of every audience member.  All eyes are trained on the lines of girls in the middle of the field. The lines morph into different shapes as each individual dances with extreme precision to the rhythm. Excitement peaks as the song ends and the pink and white pom poms form a heart around the face of one dancer.
Although in Taiwan her real name is Jou-pei Chiang, at MN this dancer is known as Michelle. After her journey across an ocean, she started school as a senior through the foreign exchange program. On Oct. 20 at the home game versus Millard South, she tore up the field in a performance with the MN dance team.
Chiang has been a dancer since kindergarten, only taking a break during middle school to focus on studies so when she met dance team coach Andrea Feltz and discovered an opportunity to perform with the dance team, she jumped at the chance.
"I talked to her at the beginning of the year when she was doing her tour here at MN.  She said she loved to dance, so we decided to have her perform at one of the football games with our team," Feltz said.
Before she came to MN, Chiang didn't know that her love of dance could lead to this amazing opportunity.
"At first, I thought I am not good enough to join a dance team, and  I was so nervous to talk to the dance coach, but Mrs. Feltz is really nice. We had a nice conversation, and they decided to let me try out to dance with them," Chiang said.
The dance team welcomed her with open arms and began planning a performance to feature her. However, practices did not come without some anxiety for Chiang.
"I was super nervous before my first practice with them because I have watched several American movies before, and all of them portrayed dance team as a really mean team. With this concern, I finally plucked up the courage and went to the practice," Chiang said.
However, her worries soon faded when she arrived to rehearsal.
"And then you guess what happened? They are totally opposite; they are the sweetest group of girls I have ever met. From then on, I no longer worry about practicing with them. Instead, I quite enjoyed every single practice," Chiang said.
As practices progressed, Chiang worked hard to learn the routines she needed for her upcoming feature performance. Senior dance team member Kayla Horan applauded how quickly she learned the dance.
"She picked up the choreography so fast, especially with how limited practice time we had before we had to perform it," Horan said.
By the time Chiang's  first American football game came around, the whole team was buzzing with excitement. They  hung out in the stands and cheered on the football team. Then it was time to perform.
"Before we went on she was super nervous and then when she performed she did super good and she nailed it. It was really fun to see that she did everything just as good as we did," senior dance team member Ellie Pleasant said.
Chiang had so much fun dancing with the team and has made many memories and friends as she went. She wanted to make sure she she thanked everyone she worked with for making her experience so enriching.
"I want to thank all of them, including the coaches and the girls, because they helped me a lot. When I was confused or had a question about something they were always really willing to help me," Chiang said.
Now, like her performance, her time with the dance team has come to a close. However, she will always be remembered as the girl at the center of the dance team's heart.