Captain marvelous
First female Marvel Cinematic Universe movie dazzles with representation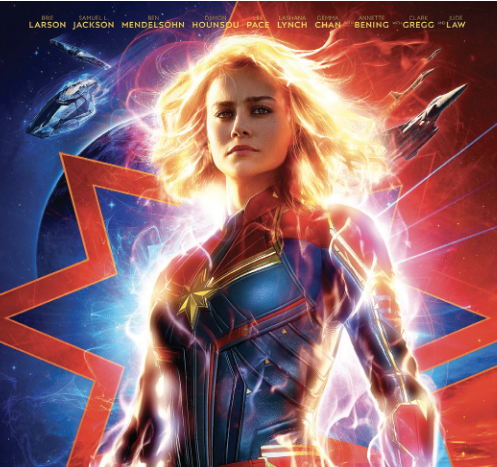 Aliens. Explosions. Nick Fury. All the essentials of a Marvel Cinematic Universe (MCU) film. Captain Marvel, set in 90's Los Angeles, takes all the classics of an MCU movie but gives them a fresh new twist.
After producing 20 movies, the Marvel Cinematic Universe has just released its first female lead on March 8.
Following the DC Cinematic Universe's release of the highest grossing superhero origin film, Wonder Woman, in June 2017, Captain Marvel had big shoes to fill.
Choppy pacing accompanied by questionable dialogue holds Captain Marvel back from meeting standards. The movie did an excellent job giving a backstory to the Avengers Initiative and showing a new and different powerful character in the MCU but doesn't fit the classic marvel dynamic.
The film portrays the experience of a woman soldier, who both on Earth and the alien universe, experiences the common adversities of female life.
Beginning in childhood and throughout her life, Carol Danvers (aka Captain Marvel) is told that she cannot compete with her male counterparts, but she continues to persevere and creates her own path to success. Captain Marvel's resilience is not only a testament to the human spirit but of the trials of femalehood as well.
Despite the excellent execution of feminist undertones in the film, when I watched Captain Marvel, I found that Brie Larson played a convincing alien, but her role as the human Carol Danvers isn't quite convincing.
Though the character Carol Danvers was thought to be "emotional", Brie Larson's depiction of the role is anything but. Larson's character wasn't as dynamic as the other stars of the film. After crying my way through Wonder Woman, this cold acting was a shock to the system.
Conversely, the actor Samuel L Jackson played a convincing young Nick Fury. In his heartwarming and comical portrayal of young Fury, Jackson brings intrigue and fun to the previously lifeless film.
Captain Marvel's representation for females in the MCU is long overdue,  and the strength she demonstrates will leave a lasting impact for all young women. In combat and everyday life, Captain Marvel sets a positive example of what it means to come to terms with who you are.
As an alien soldier, she is constantly being told to think with her head rather than feel with her heart. She is ridiculed for letting her emotions lead her actions in combat. When Captain Marvel goes to Earth, she learns what it means to follow your heart and to act with her human intuition. In the end, it's what saves the world.
Captain Marvel's success as a superhero was not despite her female-hood, but rather because of it. Captain America and Iron Man have had their day in the sun, but sometimes in order to save the world, it's important to woman up.